Where has this year gone?  Still can't quite believe it's Christmas in exactly ONE week (ahhhh!) and so on that note,we've compiled a round-up of the most stunning holiday window displays, from London to New York City:
Take a virtual tour of 18 of New York City's most iconic holiday windows through Window Wonderland. Start walking at: https://windowwonderland.withgoogle.com/
Harvey Nichols 
The drama of the Italian Renaissance has inspired the latest festive window display from Harvey Nichols  in London's exclusive Knightsbridge. The luxury department chain has unveiled its intricate and theatrical Italian-themed offering at its flagship store.
The fashionable display is said to echo the drama of Italian opera and features 100,000 glittering ice-white balls used to build chandeliers, clouds and candelabras.
Harrods, London
In a first for Harrods, the luxury department store has partnered with Burberry to create its festive window displays. Entitled A Very British Fairy Tale, the windows on Brompton Road tell the story of two children on an enchanting adventure through a snow-swept English country house, complete with flying cars, floating bathtubs and secret passageways.
Bloomingdale's, New York City
Bergdorf Goodman
Bergdorf Goodman celebrating 125 years on Fifth Avenue, the department store's Destination Extraordinary display features dreamlike displays that transport visitors to different landscapes and verdant gardens. Jungle fever has never been this chic!
Artist James Goldcrown's Love Wall features a four-story mural display of bleeding hearts, meant as a reminder to spread the love this holiday season. In this uncertain political climate, it's a message of love and hope over division. It's probably not a coincidence that the store is right opposite Trump Tower!
Fortnum & Mason, London
Galeries Lafayette, Paris
Liberty, London
Lord & Taylor, New York City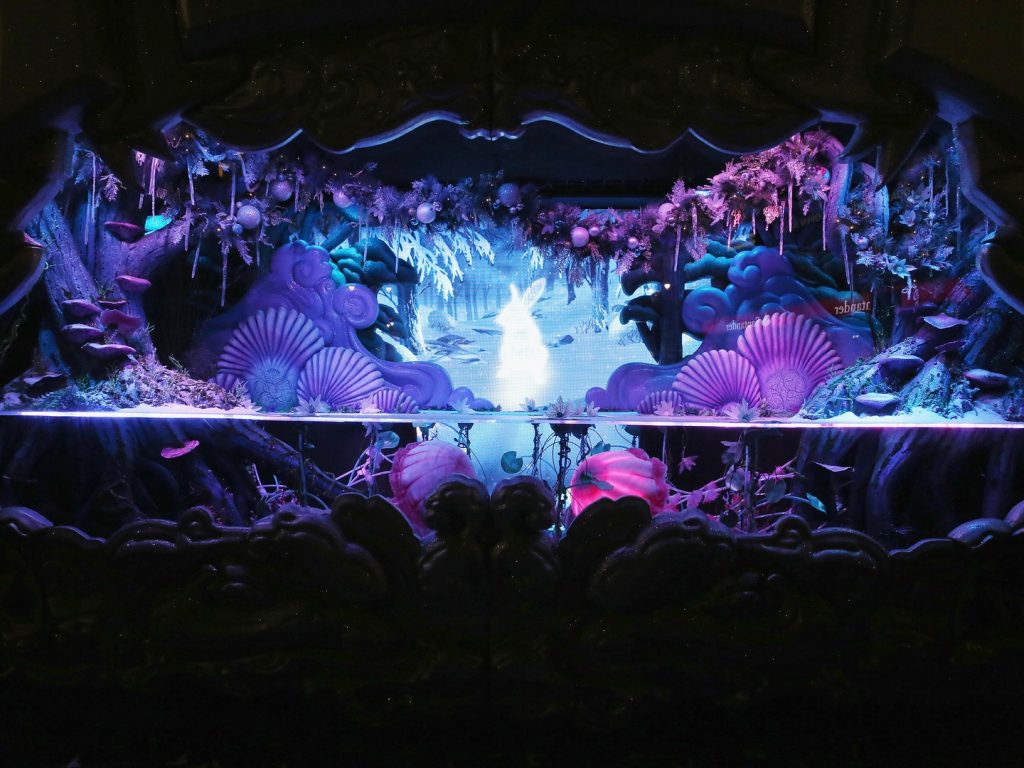 Macy's, New York City
Printemps, Paris
Over at Printemps, on the Boulevard Haussmann, it's all about adventure. This year's display tells the story of two fictional children, Jules and Violette, who find themselves inside the store after closing time on the night before Christmas.
Saks Fifth Avenue, New York City
The always-stylish Selfridges never disappoints with its holiday display.
Προετοιμαστείτε για την πανέμορφη βιτρίνα του Saks Fifth Avenue's , η οποία απεικονίζει το περίφημο μπαλέτο "Καρυοθραύστης".
Selfridges, London
The always-stylish Selfridges never disappoints with its holiday display.
Tiffany's, New York City
Who doesn't fantasize about a "Tiffany New York Christmas?"
This display is called "Make the World Sparkle" and it's definitely reminiscent of the twinkle and shine of your favorite Tiffany's jewelry!
Επιμέλεια – Paper pattern creator   : Μαρία Σουτζόγλου
#design #σχεδιασμός #πατρόν #pattern #τάσεις #μόδα #ένδυση#γυναίκα #fashion #fashion #trends #τάσεις #idesign4u #ipattern4u